2020 financial results came in ahead of our expectations, despite the pandemic resulting in a delayed kick-start at various divisions. However, the bigger takeaway has been the group's sustained progress on the battery R&D front – which began in H2 20 and has continued to date. With commercial battery cell manufacturing targeted in 2021 and various customers (across industries) expressing interest in buying, Blackstone remains on track to realise its long-term strategic ambitions and, hence, our stock recommendation is being maintained.
Despite the pandemic-induced disruption at (key) under-development assets/divisions, Blackstone Resources ended 2020 on a promising note – the results were better than our expectations. While total sales were yet again negligible (CHF9.5k), operating loss for the year came in at CHF4.4m vs. our estimate of CHF5m. Operating loss was attributable to the sizeable increase across key cost overheads such as personnel, general & administrative, and depreciation & amortisation increasing 71%, 109% and 83%, respectively – reflecting that business plans remained on track.
However, net attributable profit came in at CHF17.7m (vs. our estimate of CHF16.4m) – up 210% yoy. The bottom line was a major beneficiary of CHF22m of profit from the sale of mining assets and helped dwarf the impact of much-higher interest (+69%) and other non-operating expenses.
As a result, Blackstone's end 2020 book value of shareholders equity (ex. minorities) increased to CHF39m – up 51% vs. end 2019. Moreover, net debt was down 54% (vs. end 2019) to CHF13.2m.
Besides the financial performance, the key highlight of 2020 was the progress in the Battery R&D division (discussed below), which helped Blackstone inch closer towards its longer-term strategic ambitions.
Blackstone's enviable outperformance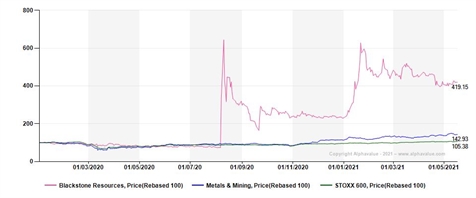 Starting in 2020, with COVID-19 beginning to impact all parts of the world, the macro situation was grim and there was a looming risk of a global crisis. While the world economy is still not out of the woods, the massive government stimulus measures have benefited some sectors to a great extent – such as Metals & Mining, wherein despite their deep-cyclicality, the markets have emphasised more on their 'potential' green virtues. In fact, investment cases like Blackstone Resources – betting ambitiously on (EV) battery R&D and also have the potential cushion of internal supplies of key metals (such cobalt, lithium and nickel) – have been liked by the markets.
Unsurprisingly, Blackstone's share price has gone through the roof. This material revival of fortunes has been a function of a series of battery technology breakthroughs, R&D partnerships, commercial discussions with potential customers and various funding arrangements being finalised in the past one year. Below is a point-wise summary of the group's major milestones:
1/ July 2020: the world's first battery cells with thick printed electrodes were successfully manufactured and tested; these printed batteries were claimed to have higher energy density vs. traditional lithium-ion batteries; manufacturing was undertaken using environment-friendly electrodes vs. chemical electrodes – which have the risk of high inflammation; and large-scale assembly line plans are being implemented to produce the above batteries / cells at high speed.
2/ September 2020: it announced key milestones for its proprietary 3D-printing technology to print lithium ion solid-state batteries; management claimed that this process entails significantly lower costs, introduces high production flexibility + increases energy density by c.20%.
3/ October 2020: GEM Global made an equity commitment of CHF30m to implement the commercial steps for battery technology and related metals.
4/ December 2020: Swiss Innovation Agency, i.e. Innosuisse, approved Blackstone's application for a grant to provide 50% funding for a CHF1.3m project.
5/ January 2021: the battery project secured EU grants, which was followed by a CHF20m convertible loan facility valid for three years.
6/ February 2021: during Blackstone's Battery Day, management presented its new 3D printed lithium-ion large battery cell produced using the firm's proprietary technology and unveiled the plan to produce these cells during summer 2021; it was stated the firm's LFP (lithium iron phosphate) technology rendered 20-25% more energy density vs. current lithium-ion technology; interestingly, the group has already begun commercial conversations with potential customers, which include some of Europe's leading car brands – an important validation of Blackstone's technology solutions; also, Blackstone unveiled its ambition to supply 10k battery cells by spring 2021 for the EU's targeted electrification of ships.
7/ April 2021: unveiled first successfully printed and tested working solid-state battery cell, thereby resulting in completion of R&D for 3D screen-printing process and paving the way for mass production of solid-state batteries using various cathode materials; now Blackstone strives to develop a manufacturing technology that produces one battery cell per second and a production cost of <$60/kWh.
As a consequence of the above-discussed developments, there is growing market interest in Blackstone's investment proposition. Luckily, these breakthroughs are materialising at a time when global EV market momentum is in top gear (illustrated in the below image).

Source: www.ev-volumes.com
Remember, despite COVID-19 wreaking havoc for global auto markets, the EV markets have been catalysed by massive government and/or regulatory push, with the growth baton being led by Europe (+137%), followed by China (+12%) and the US (+4%). These are promising signals and should further incentivise R&D in the battery space – especially given the (potential for) sky-rocketing prices of key 'green' metals and, hence, the sustained need for innovation(s) to reduce dependence on expensive materials.
Besides the incorporation of 2020 results, we have added a new forecast year, i.e. 2023 to our financial model. With the near term still focused on battery R&D and the development of the respective divisions, the earnings/cash flow metrics are likely to remain restrained. However, the bulk of the value lies in the long term – which also reflects in a material NAV upside. Our stock recommendation is maintained.
Download report : click here
Access to fundamental analysis : click here