Even with the pandemic affecting the company, as 55% of the revenues comes outside France, the company showed solid growth in both built-in drones and third-party drones. The margin has also improved significantly, nearly reaching an all-time high thanks to its licensing agreement with Aquiline Drones.
The Q1 revenues have augmented by 43% yoy with a gross margin close to an all-time high at 39%. This rise in margins has pushed gross profit to €696,000, nearly twice as much as in Q1 20. Revenues are split into 40% of own built-in drones and associated services and the remaining 60% comes from partnership brands. The latter amounted for the first time to over a million euros.
In this built-in segment, the partnership with Aquiline Drones represented €340,000, from which €90,000 is a transfer of know-how (out of the €450,000 expected throughout the deal) and the remainder represents the licence contract.
A major contract was signed on 21 April with Aquiline Drones, concerning the delivery of an extra 600 Hercules 2 drones. This news is responsible for the surge in the stock price.
Aquiline Drones
The original contract is expected to deliver €1.4m in revenues throughout the year but only delivered €340,000 in Q1. Therefore, we can expect the following quarters to be more profitable, helped by the transfer of know-how to generate €120,000 in each of the coming quarters (vs. €90,000 in Q1 21). There were concerns regarding how the transfer of know-how was going to take place with the sanitary restrictions, but Drone Volt has adapted to the situation through the implementation of digital e-learning solutions. Projects have been successfully carried out from distance and this is no longer a concern.
In addition to this stable minimum revenue, Drone Volt has signed a major contract that will catapult its results in FY21. Indeed, it has signed a contract for the deliveries of 600 Hercules 2 drones with Aquiline Drones for a total amount of $3m. Half of the drones will be assembled in Paris in its Drone Volt Factory and the rest in Aquiline Drones' industrial site in the US. This is also an indication that the Aquiline Drones' team now has the capacity to build the drones thanks to its new plant in Connecticut, which could lead to other future contracts of this sort.
Hercules 2 Drone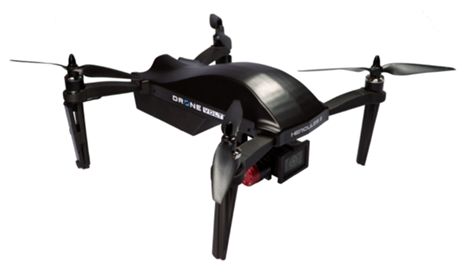 Source: Drone Volt website
Aquiline Drones is expecting growth in the coming years with the implementation of its "flight to the future" project. This project provides education, advice and technology to entrepreneurs who are keen to provide drone services. Aquiline Drone provides a platform on which entrepreneurs can find what clients might want, which, similar to Uber, could be a way to obtain commissions on these proposed ideas. In addition, it also provides an incentive for these entrepreneurs to buy their drones, therefore boosting the top-line with minimum risk.
Other positive news for the drone market in the US is that the FAA has released a legislation update whereby drones can now fly over people and at night. Previously, drones were only allowed to fly over people who were part of the corresponding drone mission. This is a big step for the drone service industry which could boost demand in the coming years, as drone legislation is becoming increasingly lenient. Aquiline Drones should benefit fully from this and, as a consequence, so will Drone Volt.
Revenues from the licensing agreement with Aquiline Drones will go directly into the profits of the group starting in Q2 and will accelerate throughout the year. There could be significant positive surprises.
Aerialtronics' valuation
Talks of Aquiline Drones acquiring a 50% stake in the Drone Volt subsidiary Aerialtronics could also enhance the stock price this year. The valuation of Aerialtronics, on which the two companies have agreed, is €15m. As a reminder, we currently value Aerialtronics at €7m in our NAV, so the new valuation could have (all things being equal) an impact of +€0.03 per share should the transaction take place.
The Hungarian Hercules deliveries
Q2 should be promising as one of its major contracts in Hungary, which is believed to represent 50 drones in 2021 (€700,000), has been postponed due to sanitary restrictions. Only three drones of this contract have been delivered, which means 9-10 postponed drones could be delivered in Q2 if market conditions allow it. Demand is still present; the only uncertainty comes from when the deliveries will take place.
We will review our target price upwards, as the new Aquiline Drone contract was a positive surprise and will augment our valuation. This is also an indication that future years could be brighter than expected, as demand continues to grow, and its partnerships will continue to enhance its margins.
Access to research : click here
Download report : click here